10 Hair-Raising Horror Games Every FNaF Fan Needs to Play
From indie fan-made games to AAA hits, here are ten horror games every FNaF fan needs to play!
From FNaF-Inspired Indie Fan Games to AAA Hits
Horror games are all the rage these days, thanks in part to the success of the sensational jump-scare game Five Nights at Freddy's. If you're a fan of the popular survival horror game, then there are a handful of other titles that you'll surely enjoy. So, the next time you're in the mood for a good scare, play one of these killer FNaF-inspired horror games!
Jump to a game:
---
1. Poppy Playtime
Poppy Playtime is an indie survival horror game with a similar feel to Five Nights at Freddy's. Developed and published by MOB Games, the game takes place in an abandoned toy factory, and the player must try to stay alive while being hunted by vicious living toys. As you cautiously move through the factory, there will be jump scared galore and plenty of suspense. The game also features a unique mechanic in which you use your "GrabPack" to interact with and grab objects from afar. Poppy Playtime includes puzzle elements that add some extra challenge and mental stimulation.
---
2. Happy's Humble Burger Farm
Happy's Humble Burger Farm gives us all the FNaF vibes! Developer Scythe Dev Team and publisher tinyBuild have made working in fast-food thrilling. In Happy's Humble Burger Farm, you play as the new night manager of the fast-food joint on the edge of New Elysian City. The gameplay features everything you'd expect from a fast-food simulator; you'll be flipping burgers, baking cookies, working the cash register—oh, and running from homicidal bovine monsters. The cow boss at Happy's really doesn't like when you mess up, and when you do, things at the restaurant can quickly turn into a demonic fever dream. In addition to running the restaurant, you can also spend time exploring the spooky city to uncover its secrets.
---
3. Five Nights at Freddy's: Security Breach
Five Nights at Freddy's goes AAA with Security Breach. In the heart-stopping sequel by Steel Wool Studios, you play as a kid named Gregory. You are trapped overnight inside Freddy Fazbear's Mega Pizzaplex. The sequel has the same creepy animatronic creatures and jump scares that you loved in the original game, and this time, you'll have the help of Freddy himself. You must work to uncover the secrets of the Pizzaplex and survive until dawn, but it won't be easy; the animatronics in the facility are programmed to hunt down all intruders, and they could be around any corner at any moment.
---
4. Phasmophobia
Phasmophobia is a suspenseful, four-player ghost-hunting horror game. Developed and published by Kinetic Games, the game sees you and your team of paranormal investigators exploring several haunted locations. You'll use your special ghost hunting equipment to search for spirits and record the evidence of their existence. The game creates an immersive experience with realistic graphics and sounds, and you can even play in VR to take it up a notch further. Phasmophobia features ten distinct types of ghosts and several unique pieces of paranormal equipment, and there's even full voice recognition, allowing you to interact with the spirits.
---
5. DEVOUR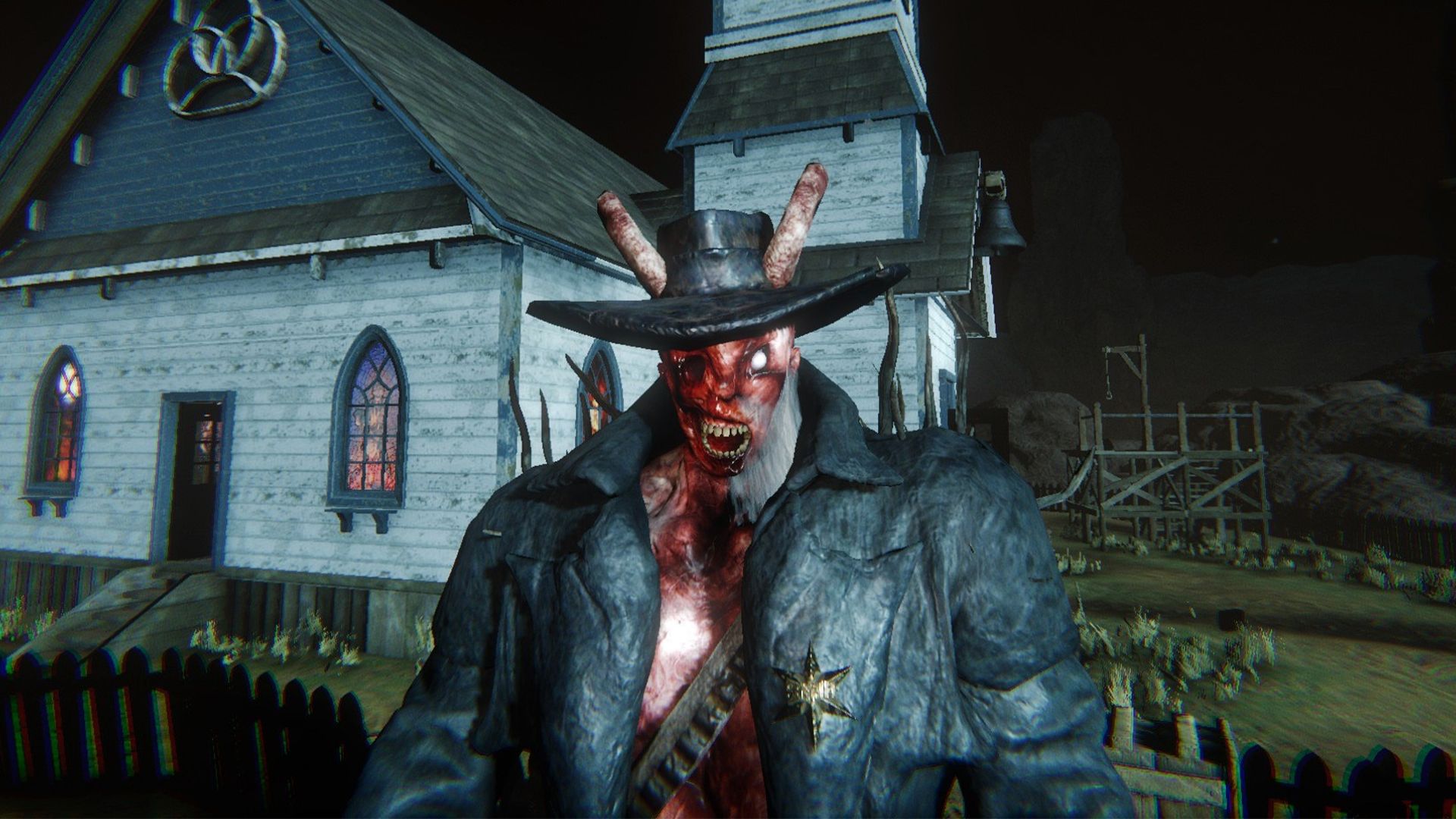 In Straight Back Games' co-op survival horror game, DEVOUR, you and up to three friends must work together to thwart a group of enraged cultists. The goat demon Azazel has possessed the cult members, so surviving and stopping them will be challenging. Playing on several unique maps, you'll take the role of a non-possessed cultist, and you'll need to find special ritual items that you can use to break Azazel's hold on the others. As each round progresses, the demonic cult members become faster and more enraged, and more will continue to spawn. Each time you play, the items and their locations are randomized, so each time you play is a fresh experience.
---
6. Nights at the Clown Maze
Developed and published by NeWa Studios, Nights at the Clown Maze is another horror title reminiscent of Five Nights at Freddy's. You work as an overnight security guard at a local maze, which has recently been under fire due to a string of missing patrons. Part of your job is to uncover the dark secrets behind the disappearances. But while investigating, you'll have to contend with the robotic clowns lurking within. Nights at the Clown Maze is a point-and-click game that's chock-full of creepiness and jump scares.
---
7. CASE 2: Animatronics Survival
CASE 2: Animatronics Survival is like Five Nights at Freddy's, only with one unique twist. As with FNaF, the standard game mode sees you navigating an ominous location while creepy animatronic creatures stalk you relentlessly. However, in CASE 2, there's also a mode where you can become an animatronic. Instead of being the hunted, you can be the hunter, chasing down the other online players. CASE 2: Animatronics Survival takes place in a city dealing with the aftermath of a terrible tragedy, and it has the feel of a dystopian wasteland. In addition to the horror elements, players will enjoy a unique storyline and a variety of creepy locations.
---
8. The Joy of Creation: Story Mode
The Joy of Creation: Story Mode is a fan-made game by Nikson that follows the events of Five Nights at Freddy's. The game features a unique concept in which you play as Scott Cawthon, the creator of FNaF. The story takes place on the night that the original game was released, and suddenly the game that Scott created has turned into his own real-life nightmare. He must survive through the night in his own house as mysterious scorched beings attack. The game features five levels with several first-person cutscenes and a creepy soundtrack.
---
9. Those Nights at Rachel's 2: Reloaded
Those Nights at Rachel's 2: Reloaded is another fun Five Nights at Freddy's fan game by Nikson and the sequel to Those Nights at Rachel's. Much like FNaF, Those Nights at Rachel's sees players take on the role of a nighttime security guard, this time at Doug's and Rachel's, which is a rival business to Freddy Fazbear's Pizza. Again, the animatronics come to life, and they're jumping out from every room and corner to kill you. In the sequel, you must shoot down waves and waves of the terrifying robotic monsters. Once you beat the final boss, you'll unlock the story mode, in which you take on the role of beta tester for Doug's and Rachel's new, mysterious project.
---
10. Fazbear Nightmare
Fazbear Nightmare is a survival horror game developed by Velsina Productions. The game takes place in an alternative timeline to the Five Nights at Freddy's franchise. Players can experience the popular games in several new ways, with plenty of exciting scares to experience. Like in FNaF, your goal is to survive the night at Freddy Fazbear's Pizza, but there are multiple new locations, a new storyline, and a plethora of new side content to discover, including hidden bonus stories and alternate game modes. With a bit of luck, you'll be able to survive the terrifying restaurant and get to the bottom of all the missing children incidents.
---
Plenty of Scary Fun
If you've played through the entire Five Nights at Freddy's series and are craving more of the same, you'll find many hours of content that's either similar or directly inspired by the popular franchise. When you're looking to get your heart pumping and spice up your night with some terrifying fun, any of these games will be perfect for satisfying your horror-hungry appetite.