Sonic Fan Games You Need to Play Now
Sonic fan(games)s unite! Check out the best Sonic fan-made games inspired by the spiky blue hero!
Updated: November 23, 2022
Sonic Fan(Games)s Unite
Sega, the company responsible for the renowned 2D action platformer, Sonic the Hedgehog, regularly shows its commitment to fans. The company took some extreme steps to keep loyalists content, including delaying the release of the original Sonic the Hedgehog after the trailer received terrible feedback online.
Notably, Sega departs from other video game companies in one distinct way. Not only does Sega encourage a solid Sonic fangame, but they regularly hire those from within the community. Modders from the community have worked on titles like Sonic Genesis mobile ports and even created the beloved Sonic Mania.
In honor of the latest film announcement and because we are huge Sonic fans, we've compiled a solid list of fangames that will scratch any hedgehog-based itch you may be facing. Check them out!
Jump to a Game:
---
Sonic.EXE - The Game
Developed by MY5TCrimson,  Sonic.EXE - The Game takes the term "cult game" to the next level. The wildly spooky creepypasta where Sonic appears as an evil hedgehog is front and center in this fan title played by popular YouTubers like Markiplier.

This 2D platformer is bursting with scary themes, like a bloody, gore-splattered Hill Zone. Get chased by the god-tier, psycho Sonic as he phases in and out of reality, hunting down each playable character before ending their lives in unique and creepy death sequences. Expect lots of disturbing graphics here, with plenty of horror art tapped from the Sonic community. It's quite a different take on the beloved Sonic franchise. It is truly something only the internet could dream (or nightmare) up.
---
Sonic Omens
Have you ever wondered why Chaos Emeralds haven't been present in recent Sonic games? Well, Sonic Omens, developed by BOLT_, answers that question. This fan-made Sonic game follows the story of Eggman, and once again, he's causing trouble. He's looking to snag the famed Chaos Emeralds, but Sonic and Tails have plenty to say about that. Sonic and Tails quickly realize that something's not right with Eggman and his quest for the Emeralds. Sonic Omens features mystery, adventure, strange monsters, and more.
---
Sonic and the Fallen Star
Developed by Stardrop, Sonic and the Fallen Star captures the nostalgia of the classic Sonic games that many of us played and loved as kids. If you played those games, you undoubtedly remember going at maximum speed through countless loops and sprinting across the water, and you'll enjoy plenty of that in Sonic and the Fallen Star.
In this love letter to the Sonic franchise, you can not only race through levels as Sonic, but you can also play as his trusty companion, Tails, as well. The game features a variety of fun stages to complete and the seven Chaos Emeralds to collect.
---
Sonic Triple Trouble 16-Bit
Sonic Triple Trouble 16-Bit reimagines a world in which the original Sonic Triple Trouble released for the Sega Genesis after the other classic game, Sonic 3 & Knuckles. Created by NoahNCopeland, this popular fan-made game reimagines Sonic Triple Trouble as one of the original Sonic classics.
Sonic Triple Trouble 16-Bit offers a variety of great features, including special 3D stages, the ability to switch between Sonic and Tails in real-time, and many new stages and enemies.
---
Cory in the Ded 3.5
If you've ever wished that your favorite Sonic games allowed you to play as a variety of other characters, you'll love Cory in the Ded 3.5. This lighthearted fan-made game is based on the Cory in the Ded series created by Radfordhound. The game features the classic 2D Sonic gameplay that you've come to know and love, only with a handful of extra abilities and gimmicks to enjoy.
In addition to Sonic and Tails, you can play as characters like Pikachu, Lucky, Autumn, Yoshi, Dankles, and others. Each of these characters offers unique attributes and skills, giving the gameplay plenty of variety. There may even be a secret character to unlock, but you'll need to play to find out for sure!
---
Sonic the Hedgehog Time Twisted
While some fan-made games lack depth, that certainly isn't the case with Sonic the Hedgehog Time Twisted. Developed by Overbound Game Studio, this detailed fan game includes aspects from both Sonic CD and Sonic 3 & Knuckles. For the creators, the goal was to take the best features of both and combine them into one fantastic game—and most players seem to agree that they've succeeded.
Some game features include 28 different acts, eight original zones to explore, ten challenging boss battles, fourteen 3D stages, and more. You can choose to play as Sonic, Tails, or Knuckles, and you can even time travel between the past and future.
---
Sonic Mania
Possibly the most famous Sonic fangame, and indeed the highest-grossing is Sonic Mania. It's the perfect introduction for anyone playing on current-gen consoles, as it's available on Xbox One, PS4, and Nintendo Switch.
Experience classic Sonic art. Tails the Flying Fox follows faithfully behind. Additionally, you can play as Knuckles the Echidna in this fan-made title. Climb walls with his claws or use Sonic's spin roll. Collect rings, discover new secrets, and get a heavy dose of classic Sonic the Hedgehog with Sonic Mania!
---
Emerald Ties
This game is a free download rather than a full-fledge, Sega-approved launch title. That doesn't mean that Emerald Ties, a game in the making since 2004, is any less of a hard-hitting dose of nostalgia! Fans of classic Sonic will immediately appreciate the classic-style art, featuring levels like the Aquatic Ruins from Sonic the Hedgehog 2.

It's not just old-school Sonic that Emerald Ties offers players! There are new monsters and robot designs for Sonic to tackle all-new 2D side-scroller levels. Zoom to this 2016 release if you're craving something in the classic Sonic 1-3 style.
---
Sonic Galactic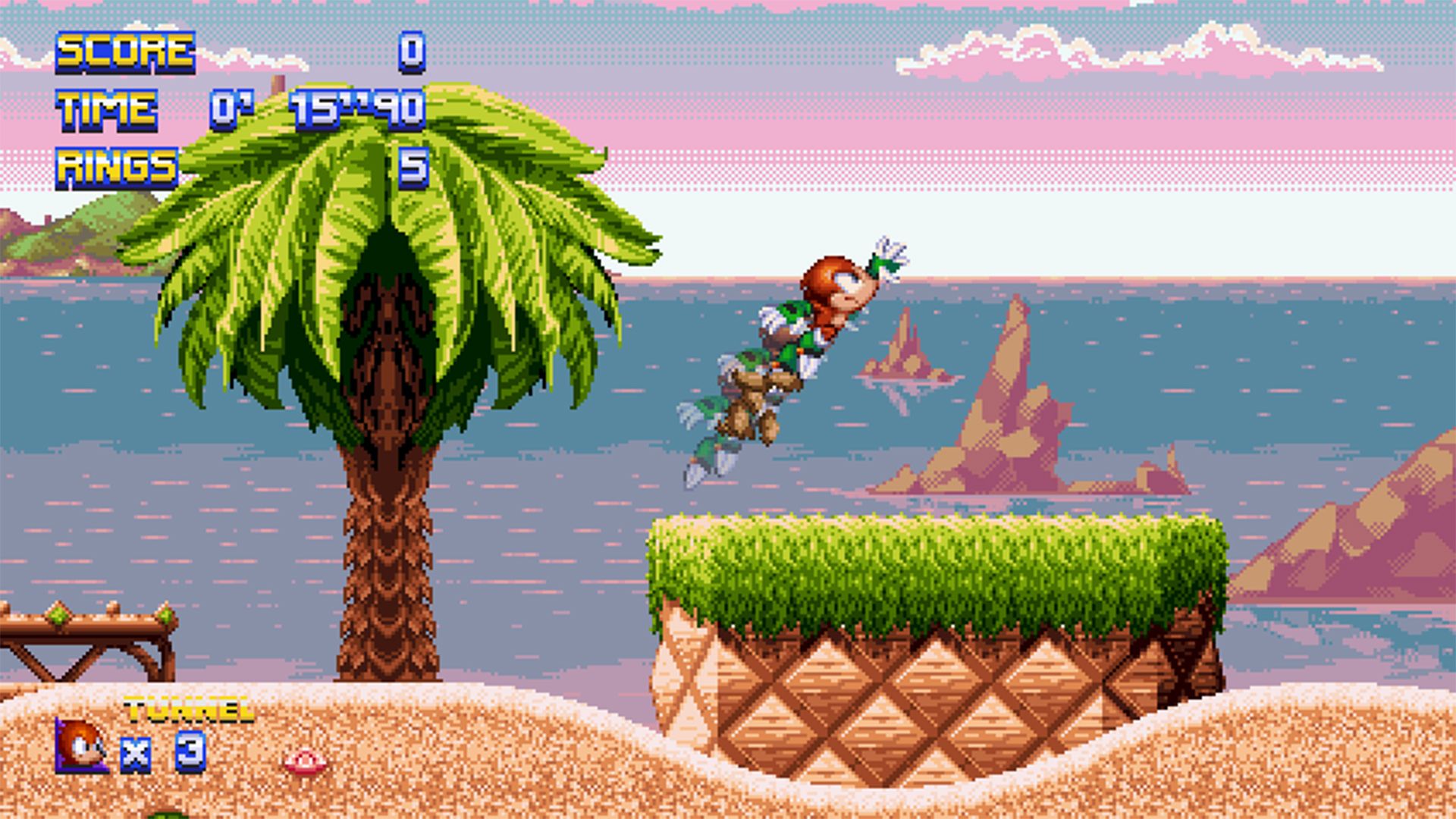 If you're looking for some fan-made characters and a more Sega Saturn-style that suits your Sonic saga, look no further than Sonic Galactic! This fangame features Fang the Sniper from the Sonic TV series and an entirely new character called Tunnel the Mole. These new teammates add a fresh splash!
The game made waves in early 2020 when its first trailers launched. It features Saturn graphics, with cleaner sprites and a polished look. The levels are time-honored examples of the most beloved Sonic games, with Hill Zone and even Drop Dash making a sneaky return! Additionally, the music is raved about by reviewers as being genuinely noteworthy.
---
Sonic 2 HD
Sonic the Hedgehog 2 is, quite simply, the best Sonic game ever created if you ask some of us Hedgehog-heads. From the craven Casino zone to the maddening Metropolis Zone, Sonic 2 HD is a labor of love from start to finish!
This project is still under development, featuring a rework of every aspect of the game from the ground up. Check out what the team's got so far, which is currently through the entirety of Hill Top Zone (or Zone Three). The group posts regular updates about their progress on their webpage. Hop on over, and don't forget to download the free-to-play edition of what's out so far!
---
Sally.EXE - The Game
This is basically a remastered take on Sonic.EXE - The Game. Sally.EXE - The Game even developed by MY5TCrimson, the same developer as Sonic.EXE! Instead of the Blue Blur's face, players are chased by a peevish pink monster this time. Check out new scenery still in the style of the traditional Sonic games. How long will you survive against Sally, Sonic's serious, sinister counterpart?
---
Sonic Robo Blast 2
Sonic Robo Blast 2 attempts to recreate the classic style in beautiful HD lovingly. Its levels are side-scrollers, with multiple playable characters.
The best part about Sonic Robo Blast 2 is that anybody can contribute to this open-source project! All you need is a Discord username and some skill. The community holds contests for new content to be added to this living, breathing fan creation that's always evolving!
---
Sonic: Before The Sequel
This is the first in a trilogy of fangames, all created by the same Sonic guru, known as LakeFeperd. Sonic: Before the Sequel takes place immediately after Sonic, the Hedgehog 1 features its classic side-scrolling 2D platforming. The game was initially released in 2011 and re-released in 2012.
Having gathered and released the Chaos Emeralds safely, Sonic notices that the Death Egg is nearly complete. He speeds off to stop it but encounters several hiccups along the way. Meet Tails the flying fox for the first time and fill in the story gaps between Sonic the Hedgehog 1 and Sonic the Hedgehog 2 of the official games.
---
Sonic: After The Sequel
The second title in LakeFeperd's Sonic trilogy is Sonic: After the Sequel. This title takes place following Sonic the Hedgehog 2. Sonic and Tails discover a large metal ring hovering near a snowy-topped mountain. Upon investigation, they find yet another trap cleverly set by Dr. Robotnik!

After the Sequel features gameplay similar to the original Sonic games. Like Sonic 3, Tails can fly. There are also the element shields that appear in later Sonic games. Fans of the tried and true games from Genesis will love this critically recognized fangame, featuring brand new zones like the Moon Mansion and Technology Tree Zones.
---
Sonic Chrono Adventure
Sonic Chrono Adventure features Sonic on a well-deserved vacation. However, the evil owl-like bot EGGATS-2013 suddenly foils it. Sonic is thrown into the past, meeting an all-new vicious villain: Doctor Ucano.
Travel through time in this sequel to Sonic: After the Sequel. Discover portals hidden throughout the past that will launch you to the present. Try to maintain the delicate balance of time-space. Additionally, this fangame sees Sonic get some pretty sweet battle upgrades. There's a sword, bumper gloves, and even jet boots that let Sonic dash through midair.
It's a fresh take on a classic beloved character. LakeFeperd caps out his very own trilogy with Sonic Chrono Adventure.
---
A Growing Trend of Fan-Made Games
Today, fan-made games are more popular than ever. Many of these unique games are tributes or mods based on popular existing games, while others are entirely original. This trend has added a ton of diversity and creativity to the gaming world, and ultimately, those who enjoy trying new, novel games are the biggest winners. As game-design technology continues to grow and advance, there's no doubt that these awesome fan-made games will become more plentiful and enjoyable.