What Is a Gacha Game?
Updated: October 26, 2022
Gacha games are a fun sub-genre of role-playing games that have exploded in popularity since the 2010s. They incorporate toy vending machine mechanics as well as monetized gameplay features. Gacha games can vary, but generally speaking, your objective is to collect as many prizes as possible, overcoming the game's randomness to get the highest score possible. These free-to-play games also tend to incorporate loot box-like mechanics, encouraging players to spend money to increase their scores and enhance their performance.
---
Gacha Games for PC
The gacha genre is rich and diverse with content. With the success of gacha game developers such as Lunime, miHoYo, more developers are inspired to get in on this popular genre of video games.
Unfortunately for PC gamers, gacha games are predominantly mobile-only. However, there are some gacha games that support cross-platform play and a handful of titles that are PC-only. If you prefer to play video games on a big screen or don't have a decent emulator, we've got you covered! Check out our list of emulator gacha games as well.
Jump to a Game:
---
Dislyte
Platforms: Windows, MacOS, iOS, and Android
Developer: Lilith Games
Dislyte is an epic RPG developed by Lilith Games. The urban, mythological role-playing game allows you to fight alongside several powerful heroes. You'll get to assemble your squad of divine champions with powers inspired by several worldwide mythologies. With your formidable team, it'll be up to you to fight the horrifying monsters who are hellbent on destroying the world. Dislyte features a visually stunning world, strategic gameplay, smooth city soundscapes, and a unique gacha system for unlocking new, awesome heroes. The game is free for PC and is also available on  Android and iOS devices as well.
---
Castlevania: Grimoire of Souls
Platforms: MacOS, iOS, and Android
Developer: KONAMI
Castlevania: Grimoire of Souls is a gothic fantasy game set in the rich, fascinating world of Castlevania. The game is notable for its stunning character designs and deep, original story that spans the Castlevania universe. This side-scrolling action game features 60 levels, a wide variety of equipment, daily and weekly missions to complete, and much more. Castlevania: Grimoire of Souls takes place after Dracula is sealed away, and now other heroes of the past must come together in this new fantasy story. You'll play as Alucard and have the opportunity to unlock various other legendary characters, each with their unique abilities and combat style. Using these characters, you'll take on many fearsome enemies and bosses in the world of Castlevania.
---
Ni no Kuni: Cross Worlds
Platforms: Windows, iOS, and Android
Developer: Netmarble
Ni no Kuni: Cross Worlds is the perfect game for fans of the fantasy genre. Developed by Netmarble, the game takes you into a fantasy world filled with breathtaking visuals, unique characters, and mysterious creatures. Players start Ni no Kuni: Cross Worlds by creating your customizable character, choose a class, and begin your wondrous adventure. This game offers endless possibilities, allowing you to create your farm, collect and train familiars, explore nature, and battle in arenas. You can also join a kingdom, make friends, and work together to collect resources, strengthen the kingdom, and complete various challenges.
---
RAID: Shadow Legends
Platforms: Windows, MacOS, iOS, and Android
Developer: Plarium
If you enjoy fantasy RPGs, RAID: Shadow Legends may be just the game for you. Taking place in the dark world of Teleria, this PC game allows you to recruit legendary warriors from the forces of Light and Darkness. You'll train these powerful heroes to fight together and assemble the most formidable raiding party imaginable. RAID: Shadow Legends features a variety of game modes, including a story campaign, a team PvP arena, and a variety of epic boss battles. You can collect hundreds of champions from 14 different factions, customizing their attributes, strengths, and weaknesses to defeat challenging enemies. This game boasts a little bit of everything, including an exciting gacha system, and it will provide endless hours of engaging entertainment.
---
Arknights
Platforms: Windows, iOS, and Android
Developer: YOSTAR LIMITED and HyperGryph
Arknights is a beautiful anime-style game featuring both RPG and strategy elements. You play as a key member of Rhodes Island -- a pharmaceutical company tasked with fighting a deadly infection and its effects. You'll have to recruit Operators, train them, and assign them to different operations to protect the innocents from the terrifying disease. Developed by YOSTAR LIMITED and HyperGryph, Arknights allows you to choose from hundreds of unique Operators across different classes, opening up various gameplay options. You'll get to create your customized base, fight in thrilling battles, and enjoy the robust soundtrack and many celebrity voice-acting performances.
---
Tower of Fantasy
Platforms: Windows (via the official website or Steam), iOS, and Android
Developer: Hotta Studio
Tower of Fantasy is a unique open-world RPG featuring stunning anime visuals and incredible sci-fi adventures. The vibrant fantasy game, developed by Hotta Studio, picks up after the human race has left Earth and migrated to the lush and habitable alien world, Aida. A catastrophic disaster has recently occurred on Aida, and you must embark on an epic journey to preserve the gorgeous planet. Tower of Fantasy features a variety of unique characters, a diverse collection of enemies, and a vivid, living world to explore. This game is perfect for anyone looking to become immersed in a beautiful, one-of-a-kind fantasy world.
---
Genshin Impact
Platforms: PS4, Nintendo Switch, iOS, Android, and Microsoft Windows
Developer: miHoYo
Genshin Impact is a cross-platform open-world action-RPG that uses gacha mechanics as its base but expands upwards from there. In the game, you control four players, fighting through arenas, defeating bosses, solving puzzles, and using your wits to complete the adventures. The gacha components occur as you attempt to find loot to collect that can better empower you to complete the game's various adventures. Perhaps the most interesting part of Genshin Impact is it has a large map. with a variety of arenas, exploring everything from snowy mountains to Egypt-like pyramids. This game constantly keeps you on your toes!
---
Gacha Life
Platforms: iOS, Android, and Microsoft Windows
Developer: Lunime
The PC version of Gacha Life is more of a demo of the full mobile version, however, it's still high up on our list. Gacha Life allows players to create customized anime characters as they see fit. This means you can alter the characters by giving them new clothing, hairstyles, looks, and more. From there, you can enter an editor program and give your character their own story and interactions with others. This is a highly creative and popular game. If you need more Gacha Life in YOUR life then we recommend you try an android emulator so that you can experience the full version.
---
100% Orange Juice
Platforms: Microsoft Windows
Developer: Orange_Juice
If a game is named after a popular drink, you know it's going to be quirky. 100% Orange Juice is a PC-only board game-style gacha game. In it, you play as one of four characters, landing on power-ups and battling other players. This virtual board game incorporates elements of popular JRPGs. Your goal is to fight against the encroaching darkness that threatens to swallow the world of the game whole. This game comes with various ways to play, including multiple single-player games and online matches, so you can play however you'd like.
---
Onmyoji
Platforms: iOS, Android, and Microsoft Windows
Developer: NetEase Inc
Onmyoji is a turn-based RPG that allows for cross-platform play. Set in the Heian period, humans and demons co-exist, sometimes peacefully, sometimes not. The vast game world allows you to build your character and party. You must summon demons and protect the world from constant threats. Onmyoji contains elements of PvP and PvE, so there are many ways to play and enjoy this free-to-play game.
---
Gacha Club
Platforms: iOS, Android, and Microsoft Windows
Developer: Lunime
Gacha Club has similar features to Genshin Impact, profiled above. In Gacha Club, you can join any number of clubs. Players create and personalize an adorable anime-style character, giving them any number of looks and weapons. From there, you begin the battle, fighting against others in one of four different game modes. Leveling up can help your character grow and become more powerful. Just like other games in Lunime's Gacha Universe, there is also a huge community component to the game that allows players to show off their unique creations and interact with friends and other fans.
---
Granblue Fantasy: Versus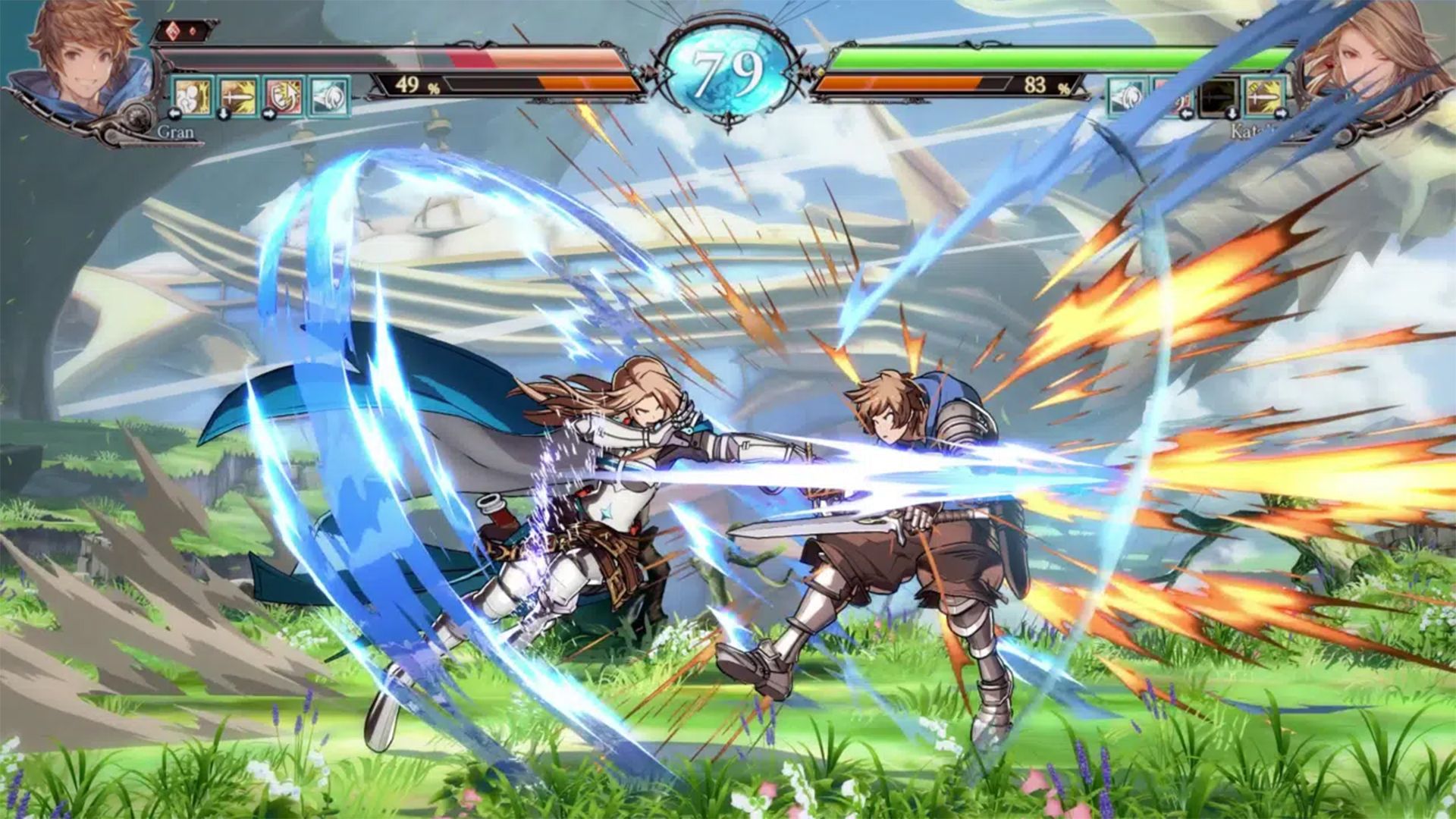 Platforms: PS4 and Microsoft Windows
Developer: Arc System Works, Cygames
Granblue Fantasy is an older RPG, having been first released in 2014. The latest addition to the Universe is Granblue Fantasy: Versus. In the hit action-adventure game, players engage in a variety of space and combat adventures, fighting enemies and exploring a new world as part of a broader, JRPG party. The game allows players to assume the role of the in-game characters. The gacha elements come in the form of drops that can be purchased via crystals and tickets. This adds an exciting and addictive element to the play, as players can purchase crystals and tickets with real-world money.
---
Honkai Impact 3rd
Platforms: PS4, Nintendo Switch, iOS, Android, and Microsoft Windows
Developer: miHoYo
Honkai Impact 3rd is another successful free-to-play 3D action-RPG from miHoYo. The gacha-style game takes aspects of Guns GirlZ but creates a whole new story. Command a team of Valkyries to fight against the threats of the evil Honkai. Each Valkyrie has unique stats and abilities so choose your team wisely. From zombie battles to monster showdowns, complete combat-filled missions to win crystals, the in-game currency. Players are able to upgrade their Valkyries skills, gear, and resources to level up their hero. With a variety of side stories, special events, and a dynamic combat system, this gacha game is one of the best gacha games for PC.
---
Loot Box Simulator
Platforms: Microsoft Windows
Developer: Clickbait Studios
Loot Box Simulator is...well, it's a joke. A meta, self-aware game, in which the player opens loot boxes. It is free-to-play, and all you do is open loot boxes. Your goal is to collect numbers from the loot boxes, and you win if you collect all 100 numbers. With a variety of mini-games, surveys, and a surprisingly interesting plot, there is a lot to do in this PC gacha game.
---
Gems of War
Platforms: PS4, Nintendo Switch, iOS, Android, and Microsoft Windows
Developer: Infinity Plus Two
Gems of War is a wonderful combination of gacha, RPG, and Match 3 mechanics. Fans of any of these genres will enjoy this one. In Gems of War, your job is to match gems. These gems empower your player, strengthening your spells and putting you in a better position for combat. The game is free-to-play and comes with a robust online community, so if you play this one, you will never be bored. It is also constantly being updated with in-game events by the developers, Infinity Plus Two.
---
Super Dragon Ball Heroes World Mission
Platforms: Nintendo Switch and Microsoft Windows
Developer: Dimps Corporation, SAFARI GAMES Co., Ltd.
Super Dragon Ball Heroes World Mission is a cartoon-like game that takes place within the Dragon Ball Heroes Universe. In it, you create your hero that seeks to become the world champion of Super Dragon Ball Heroes. The game plays like a tactical card game, in which you seek to engage in combat by building the best deck, creating synergies that will allow you to defeat your opponent. However, just like the Dragon Ball world, this game has a broader plot, and you must save the world in addition to becoming the world champion.
---
Emulator Gacha Games
For gamers who use an emulator, we had to add these awesome mobile gacha games to the list.
Punishing: Gray Raven
Platforms: iOS and Android
Developer: Kuro Game
Punishing: Gray Raven is a post-apocalyptic RPG developed by Kuro Game. In this action-packed sci-fi game, humankind is nearly extinct, and Earth is controlled by a robotic army called The Corrupted. The Corrupted have been twisted and warped by a biomechanical virus known as The Punishing, and the last survivors of humanity have fled to the space station Babylonia. You play as the commander of the Gray Raven special forces unit, and you must assemble an army of cyborg soldiers to defeat The Corrupted and reclaim Earth for humankind. Punishing: Gray Raven features fast-paced combat, stunning environments to explore, and an intense soundtrack.
---
Cookie Run: Kingdom
Platforms: iOS and Android
Developer: Devsisters
You'll want to be careful about playing this one on an empty stomach. Developed by Devsisters, Cookie Run: Kingdom is a whimsical RPG which happens to take place in a magical cookie-based world. The game follows GingerBrave and his friends, who must face off against Dark Enchantress Cookie and her dark legion. You'll get the opportunity to build your cookie kingdom—producing materials, crafting items, arranging activities, and choosing from unique decors. Utilizing different combinations of Treasures and Toppings, you'll also create your ultimate cookie team to fight in the Kingdom Arena and several other battle modes. So, are you ready to unravel the secrets of the ancient cookies and their kingdoms?
---
Pokémon UNITE
Platforms: Nintendo Switch, iOS, and Android
Developer: TiMi Studio Group and The Pokémon Company
Whether you've been a fan of Pokémon since you were a kid or a newbie to the franchise, you'll have a great time playing Pokémon UNITE. In this unique Pokémon game, you will team up and take on other trainers in five-on-five strategic team battles with your Pokémon. You and your teammates can catch different Pokémon, then battle to level up and evolve them, strengthening your squad and improving your chances of victory. Then, you get to go head-to-head with other trainers from around the world, using a variety of new UNITE moves and displaying your Pokémon in their most stylish outfits. If your battles go well, you'll be able to climb the ranks and work your way up the global leaderboard!
---
NieR Re[in]carnation
Platforms: iOS and Android
Developer: Square Enix
NieR Re[in]carnation is a command-action RPG and the latest installment in the NieR series. Developed by Square Enix, the game begins with a girl awakens on a cold stone floor in the fantasy world, The Cage. She finds herself in an infinitely vast world filled with sky-high buildings and is guided around her new surroundings by a mysterious creature called Mama. She must journey through this strange new world to reclaim what she has lost and atone for her sins. In this unique game, you'll explore a fascinating environment, battle The Dark Monster, and uncover the secrets of The Cage.
---
No Shortage of Awesome Gacha Games
These days, PC games that implement gacha mechanics are more popular than ever, covering many diverse titles across numerous genres. If you're unfamiliar with gacha, it's a mechanic similar to the loot box, allowing players to gamble with in-game currency to receive fun items. The rewards you receive through gacha systems may be purely aesthetic or offer real in-game utility. Ultimately, it depends on the specific game and system. Gacha games can be a blast, as they introduce an element of chance that adds extra excitement to the gameplay.
As you can see from our list, gacha games come in various genres and styles. Whether you're in the mood for a whimsical fantasy game, an epic sci-fi adventure, or fast-paced arena combat, there's bound to be an awesome gacha game for PC that will suit your tastes.
---