As far as simulation games go, cooking games are fantastic. From restaurant management and learning new recipes to anime multiplayer cook-offs, this is a diverse genre with so many different game concepts offering a little something for everyone. Plus, if you aren't a master chef in real life, you have the chance to be one by playing one of the best cooking video games below.
Let's get cooking!
---
1. Star Chef 2
Star Chef 2  is a cooking and restaurant management game available for mobile app and PC. The goal is to work your way up to become the master chef of the restaurant you manage. You will have to start at the beginning, however, as just an entry-level employee.

To work up to the master chef position, you will have to learn over 200 recipes available in the game. Eventually, you can hire a team of international professionals to make the best meals you can imagine. Keep your guests happy to keep operations running smoothly.
---
2. Cooking Simulator
Cooking Simulator is unique in that there is a VR version of the game too. You can prep the ingredients and chop vegetables at a variety of workstations. Along the way, as long as you are in career mode, you will learn new recipes and grow your skillset.

This game also has a new DLC coming out on November 18 called Cooking Simulator - Shelter. You will have to learn how to make new recipes in an underground bunker. The goal is to survive the post-apocalyptic world through your cooking skills. You will need to gather supplies from the exterior wasteland as necessary.
---
3. Cookie Clicker
Cookie Clicker is an idle game that is available for iOS and Android devices and PC. The only goal of this simple option is to make the best desserts possible. You only have to enter the game and start clicking to start baking your cookies.

Eventually, you can hire a team of grandmothers who will help you make your cookies faster. You can also eventually open up fields in which you grow seeds for your desserts. Finally, win awards in the game by baking the most massive cookie possible.
---
4. Minecraft
Minecraft is a multi-faceted game in that you can play it on mobile devices, PC, or consoles like the Xbox and PlayStation. The popular game is most well-known for how you can build your world and defeat the elder dragon. Minecraft also has several cooking mods that will let you craft some of the best recipes possible.

The Minetronic Master Chef mod brings you 11 new crops that you can grow and 23 new blocks. These include milk barrels, butter churns, and pizza ovens. The Veggie Way, on the other hand, brings in vegetarian options. A mod called Yummy brings nutritional categories to the game.
---
5. Overcooked! All You Can Eat
Overcooked! All You Can Eat  was one of the biggest game releases of March 2021 and is available to play on console and PC. This title in the series contains Overcooked! and Overcooked! 2, and there are now 4K graphics. It is a fun game to play by yourself or with a group of other people.

In the Overcooked! series, you play a quirky chef who has to fulfill specific customer orders. Each level comes with a variety of challenges, however, including traps and rotating kitchens. Make sure that you work with a team of people you can trust to beat all of the puzzles in the series.
---
6. Cook, Serve, Delicious! 3?!
Cook, Serve, Delicious! 3?! is the newest edition of the trilogy. In third instalment of the game, you will have a team that includes two robots who help you compete in a food truck competition.

There are over 300 levels in Cook, Serve, Delicious! 3?! After every few, you will learn a new recipe that you will need to perfect to create the story. Play single-player, or enjoy the split-screen co-op mode that you can play with your friends and family members.
---
7. Epic Chef
Epic Chef is a comedic cooking simulator that plays like a story-based adventure game. You will start as a humble farm owner in which you grow all of your ingredients for your restaurant. Eventually, you will become the top cook in Ambrosia, the town's name that is the setting of Epic Chef.

It is important to note that Epic Chef is brand new. It only just came out on November 11, 2021, so you can rest assured that the graphics are beautiful. Download the game today so that you can start the story of Zest and his epic restaurant.
---
8. Battle Chef Brigade
Battle Chef Brigade is unique in that it has an anime-like style. You can play the game on your PC through Steam or on your PlayStation or Nintendo Switch. The campaign is a single-player in this option, and it plays like a standard RPG.

The storyline is unique in Battle Chef Brigade because you have to go out into the wild and hunt down your ingredients. You also have to find cookware, with the best available creating the best recipes. There is also a multiplayer mode that lets you and your loved ones participate in cooking challenges.
---
9. Bakery Simulator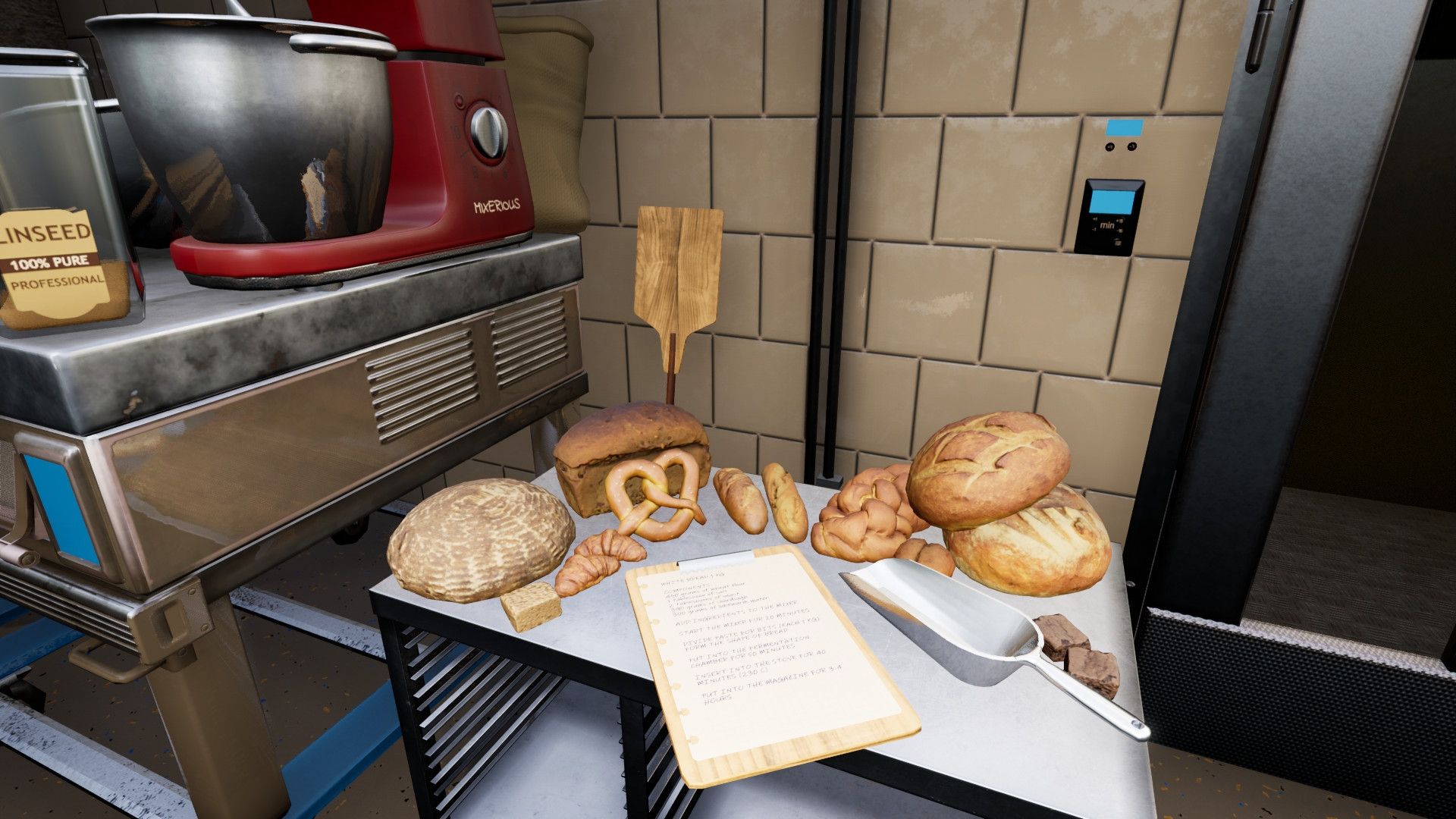 Bakery Simulator is only available on PC at the current time. You can only play the demo as the full version will release soon. Even in this shortened version of the game, however, you can learn to make several different types of bread.

Bakery Simulator is unique too in that you can follow recipes or come up with your own by blending ingredients. Every machine has a realistic look to it, really giving you the feel of a bakery. You will earn money to make upgrades by delivering orders to customers and storefront locations.
---
10. Galactic Chef
If you have dreams of participating in a Food Network game show, Galactic Chef may be the perfect option for you. Though this software is not available yet for full download, you can enjoy the demo version.

Galactic Chef plays through a sci-fi cooking competition in which you play as an alien of your choice. You will have to go through several different challenges throughout the season. Completing these will eventually give you the title of Galactic Chef. Throughout your time of competitions, you can unlock new modes to always experience the many different features in the game.
---
Food for Thought
These titles are hands-down the best cooking video games currently on the market. From restaurant management to RPG food fights, each game has unique gameplay features and concepts for everyone to enjoy.
However, with simulation games like these continuously being released, we can expect even more enjoyable titles in the future. For example, some releases we are anxiously waiting to sink our teeth into in 2022 are DRAGO entertainment's Food Truck Simulator and Road Diner Simulator.
So, stay tuned!

---